[English] - [Cymraeg]
We receive hundreds of phone calls each week of people looking for help and information on a number of different things, a lot of which are around creating a lasting power of attorney (LPA).  Here are a few of our most frequently asked questions to make your life a little easier when creating an LPA (part 2 can be found here).
Q1. How do I apply for a remission or exemption?
A remission or exemption is where you're able to make an LPA for half the price, or free of charge. You're able to apply for a remission or exemption if you earn less than £12,000 per year, or are on means-tested benefits.
You'll need to apply at the same time as sending in your LPA application to us. To find out if you're eligible and find the forms to fill in, visit our website.
Q2. Can anyone be an attorney?
Yes as long as the person is over the age of 18 and able to understand the responsibility of becoming an attorney.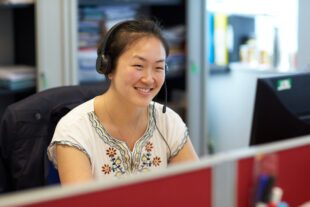 We suggest, if you're looking for someone to help with your finances, you choose someone with a good history of managing money. If that person has been declared bankrupt, they won't be able to act as a property and finance attorney, but can still act as a health and welfare attorney.
You should always choose people you trust and it can be anyone such as a friend, neighbour, partner or child.
Some people may not want to appoint a friend or family member, you can also appoint a professional, such as a solicitor, to be your attorney, however they will charge you for their time acting on your behalf.
Q3. I want to appoint a family member as an attorney, but they live abroad. Can I still appoint them?
In order to create the LPA document all attorneys must sign the LPA in person, in black pen and then have a witness sign the document too.
If your attorney lives abroad you'll need to post the forms to them to sign and have them posted back to you.
Once they've been signed and registered your attorney can act from anywhere in the world. When appointing your attorneys, make sure you check how you want them to act, especially if one lives in a different country, as it could cause issues later.
If you want to know more about delegating tasks and what you need to do as an attorney, you can check out our 'Things to know as an attorney or deputy podcast' or blog post.
Q4. Who can witness an LPA?
If you're a donor, the person the LPA is for, your witness must be anyone aged 18 or older, and not a named attorney or replacement attorney.
An attorney's signature must also be witnessed by someone aged 18 or older but can't be the donor. Attorney's can witness each other's signature, and your certificate provider can be a witness for the donor and attorneys.
Signatures can't be witnessed online and must be done in person.
Q5. Who can be a certificate provider for my LPA?
A Certificate Provider must be independent of the application, not related to the donor or attorney(s), over the age of 18 and have known you well for at least two years.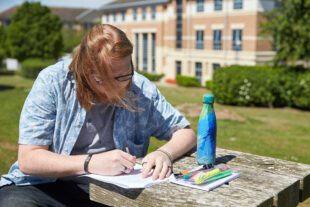 Their role is to make sure you are able to understand what you are signing and are not being forced into doing it. Ideally they will speak to the donor separately and privately before signing and witnessing the document.
You can also ask a professional, someone with the skills to know if you're able to make the decision on signing an LPA such as:
a registered healthcare professional, such as your GP
a solicitor, barrister or advocate
a registered social worker
an independent mental capacity advocate (IMCA)
However, a professional might charge for their time.
Q6. What is the order of signing the document?
Put very simply, the order is:
1. The donor must sign first, followed by the witness
2. Once they have signed the Certificate provider will sign their section
3. Attorneys and replacement attorneys sign after which is then witnessed
When filling out an LPA the order of signatures appears in  the document in the order they need signing You can sign it all on the same day if everyone is available.
If you're unable to sign your name, due to an illness or injury , you can make a mark .
If it is an LPA for health and welfare decisions they must also witness you signing section 5, about life-sustaining treatment.  
The documents will state where to sign such as:  
The certificate provider signs LPA section 10 named 'Signature: certificate provider' and all the attorneys and replacement attorneys sign LPA section 11 named 'Signature: attorney or replacement attorney'. 
You can find more detail on the order of signing and how to fill in the LPA on our gov.uk page.
Q7. When can my attorneys act for me?
For a health and welfare LPA, your attorney can only act for you once you've lost the ability to make your own decisions.
For a financial LPA, with your permission as stated in the document, your attorney can step in and help you with decision making before you lose mental capacity.
When your attorneys do act on your behalf, they're bound by the principles of the Mental Capacity Act .
Q8. When should I register my LPA?
As soon as possible. Whether you're thinking about making one, or have one ready and signed but don't want to register it yet, just in case, we suggest you send it in.
If there are any issues with the applications or any corrections need to be made, we may need to send the application back to you which can delay your registration process.
If you wait until the LPA is needed, the person the LPA is for, may no longer have mental capacity to make the changes needed and we won't be able to process the application.
If you'd like more information go online at gov.uk/opg,  you can use our online tool which gives you step by step guidance at each stage of your application. If you have further questions you can contact us at customerservices@publicguardian.gov.uk or call us on 0300 456 0300.

[English] - [Cymraeg]
Rydym ni'n derbyn cannoedd o alwadau ffôn bob wythnos gan bobl yn chwilio am gymorth a gwybodaeth am nifer o bethau gwahanol, gyda llawer ohonynt yn ymwneud â chreu atwrneiaeth arhosol.  Dyma ychydig o'n cwestiynau mwyaf cyffredin i wneud bywyd ychydig yn haws i chi wrth greu atwrneiaeth arhosol (mae rhan 2 ar gael yma).
C1. Sut ydw i'n gwneud cais am ostyngiad neu eithriad?
Gostyngiad neu eithriad yw pan rydych chi'n gallu gwneud atwrneiaeth arhosol am hanner y pris, neu am ddim. Rydych chi'n gallu gwneud cais am ostyngiad neu eithriad os ydych chi'n ennill llai na £12,000 y flwyddyn, neu os ydych chi'n cael budd-daliadau prawf modd.
Bydd angen i chi wneud cais ar yr un pryd ag y byddwch chi'n anfon eich cais atwrneiaeth arhosol atom ni. I weld os ydych chi'n gymwys ac i ddod o hyd i'r ffurflenni i'w llenwi, ewch i'n gwefan.
C2. Oes modd i unrhyw un fod yn atwrnai?
Oes, cyn belled â bod yr unigolyn dros 18 oed ac yn deall y cyfrifoldeb o fod yn atwrnai.
Os ydych chi'n chwilio am rywun i helpu gyda'ch materion ariannol, rydym ni'n awgrymu,  eich bod chi'n dewis rhywun sydd â hanes da o reoli arian. Os ydy'r unigolyn hwnnw wedi cael ei wneud yn fethdalwr, ni fydd yn gallu gweithredu fel atwrnai eiddo ac arian, ond bydd yn gallu gweithredu fel atwrnai iechyd a lles.
Dylech chi ddewis unigolion dibynadwy, a gallan nhw fod yn ffrind, cymydog, partner neu blentyn.
Mae'n bosib na fydd rhai pobl eisiau penodi ffrind neu aelod o'r teulu. Gallwch chi hefyd benodi gweithiwr proffesiynol, fel cyfreithiwr i fod yn atwrnai, ond byddan nhw'n codi tâl am eu hamser yn gweithredu ar eich rhan.
C3. Rydw i eisiau penodi aelod o'r teulu fel atwrnai, ond mae'n byw dramor. Oes modd i mi ei benodi?
Er mwyn creu dogfen atwrneiaeth atodol rhaid i bob atwrnai lofnodi'r atwrneiaeth arhosol ei hun, gyda phin du a chael tyst i lofnodi'r ddogfen hefyd.
Os yw eich atwrnai'n byw dramor bydd angen i chi bostio'r ffurflenni ato i'w llofnodi a sicrhau ei fod yn eu postio'n ôl atoch chi.
Ar ôl i'r ffurflenni gael eu llofnodi a'u cofrestru, bydd eich atwrnai yn gallu gweithredu o unrhyw le yn y byd. Wrth benodi eich atwrneiod, gwnewch yn siŵr eich bod chi'n gwirio sut rydych chi eisiau iddyn nhw weithredu, yn enwedig os yw un yn byw mewn gwlad wahanol, oherwydd gallai hyn achosi problemau yn nes ymlaen.
Os ydych chi eisiau rhagor o wybodaeth am ddirprwyo tasgau a beth sydd angen i chi ei wneud fel atwrnai, edrychwch ar ein 'podlediad Pethau i'w gwybod fel atwrnai neu ddirprwy' neu bost blog.
C4. Pwy sy'n cael bod yn dyst i atwrneiaeth arhosol?
Os ydych chi'n rhoddwr, neu'n unigolyn y mae'r atwrneiaeth arhosol ar ei gyfer, rhaid i'ch tyst fod dros 18 oes, ac ni all fod yn atwrnai wedi'i enwi nac yn atwrnai newydd.
Rhaid i lofnod yr atwrnai gael ei dystio hefyd gan dan rywun dros 18 oed ac eithrio'r rhoddwr. Mae atwrneiod yn gallu tystio llofnodion ei gilydd, ac mae darparwr eich tystysgrif yn gallu bod yn dyst ar gyfer y rhoddwr a'r atwrneiod.
Does dim modd tystio llofnodion ar-lein a rhaid gwneud hyn wyneb yn wyneb.
C5. Pwy sy'n cael bod yn ddarparwr tystysgrif ar gyfer fy atwrneiaeth arhosol?
Rhaid i Ddarparwr Tystysgrif fod yn annibynnol o'r cais, heb fod yn perthyn i'r rhoddwr na'r atwrneiod, dros 18 oed ac wedi eich adnabod yn dda am o leiaf dwy flynedd.
Ei rôl yw gwneud yn siŵr eich bod chi'n gallu deall beth rydych chi'n ei lofnodi ac nad ydych chi'n cael eich gorfodi i wneud hyn. Yn ddelfrydol, bydd yn siarad â'r rhoddwr ar wahân ac yn breifat cyn llofnodi a thystio'r ddogfen.
Gallwch chi ofyn hefyd i weithiwr proffesiynol, rhywun sydd â'r sgiliau i wybod os ydych chi'n gallu gwneud y penderfyniad i lofnodi atwrneiaeth arhosol fel:
gweithiwr gofal iechyd proffesiynol cofrestredig, fel eich meddyg teulu
cyfreithiwr, bargyfreithiwr neu eiriolwr
gweithiwr cymdeithasol cofrestredig
eiriolwr galluedd meddyliol annibynnol
Ond, efallai y bydd gweithwyr proffesiynol yn codi tâl am eu hamser.
C6. Beth yw'r drefn o lofnodi'r ddogfen?
Yn syml iawn, y drefn yw:
1. Rhaid i'r rhoddwr lofnodi'n gyntaf, wedi'i ddilyn gan y tyst
2. Ar ôl iddyn nhw lofnodi bydd y darparwr tystysgrif yn llofnodi ei adran
3. Yna mae'r atwrneiod a'r atwrneiod newydd yn llofnodi, sydd wedyn yn cael ei dystio
Wrth lenwi atwrneiaeth arhosol mae trefn y llofnodion yn ymddangos yn y ddogfen yn y drefn y mae angen eu llofnodi. Gallwch chi lofnodi popeth ar yr un diwrnod os yw pawb ar gael.
Os nad ydych chi'n gallu llofnodi eich enw, oherwydd salwch neu anaf, gallwch chi roi marc.
Os yw'n atwrneiaeth arhosol ar gyfer penderfyniadau lles rhaid iddo hefyd fod yn dyst i chi'n llofnodi adran 5, am driniaeth cynnal bywyd. 
Bydd y dogfennau'n dweud lle i lofnodi fel: 
Mae'r darparwr tystysgrif yn llofnodi adran 10 yr atwrneiaeth arhosol o'r enw 'Llofnod: darparwr tystysgrif' ac mae'r atwrneiod a'r atwrneiod newydd yn llofnodi adran 11 yr atwrneiaeth arhosol o'r enw 'Llofnod: atwrnai neu atwrnai newydd'.
Gallwch chi ddod o hyd i ragor o fanylion am y drefn lofnodi a sut i lenwi'r atwrneiaeth arhosol ar ein tudalen gov.uk.
C7. Pryd fydd fy atwrneiod yn cael gweithredu ar fy rhan?
Ar gyfer atwrneiaeth arhosol iechyd a lles, dim ond ar ôl i chi golli'r gallu i wneud eich penderfyniadau eich hun y bydd eich atwrnai yn cael gweithredu ar eich rhan.
Ar gyfer atwrneiaeth arhosol ariannol, gyda'ch caniatâd fel y nodwyd yn y ddogfen, gall eich atwrnai gamu i mewn a'ch helpu i wneud penderfyniad cyn i chi golli eich galluedd meddyliol.
Pan fydd atwrneiod yn gweithredu ar eich rhan, maen nhw'n rhwym wrth egwyddorion y Ddeddf Galluedd Meddyliol .
C8. Pryd ddylwn i gofrestru fy atwrneiaeth arhosol?
Cyn gynted â phosib. P'un ai ydych chi'n ystyried gwneud un, neu wedi gwneud a llofnodi un ond ddim eisiau ei chofrestru eto, rydym ni'n awgrymu eich bod chi'n ei hanfon i mewn, rhag ofn.
Os bydd yna unrhyw broblemau gyda'r cais neu os bydd angen gwneud unrhyw gywiriadau, efallai y bydd angen i ni anfon y cais yn ôl atoch chi a gallai hyn achosi oedi gyda'r broses gofrestru.
Os byddwch chi'n aros nes bod angen yr atwrneiaeth arhosol, efallai na fydd yr unigolyn y mae'r atwrneiaeth arhosol ar ei gyfer yn meddu ar y galluedd meddyliol i wneud y newidiadau angenrheidiol ac ni fyddwn ni'n gallu prosesu'r cais.
Os hoffech chi gael rhagor o wybodaeth ewch ar-lein i gov.uk/opg, neu gallwch chi ddefnyddio'r adnodd ar-lein sy'n rhoi arweiniad cam wrth gam i chi. Os oes gennych chi ragor o gwestiynau, anfonwch neges e-bost atom ni ar customerservices@publicguardian.gov.uk neu ein ffonio ar 0300 456 0300.