The Office of the Public Guardian is developing a number of services to enable Deputies to submit their annual reports online. One of these services is being developed specifically for Public Authorities (PA).
From May to August 2016 we carried out a piece of discovery research with a number of PA's to understand their needs and requirements. This included 1-1 research sessions, work shadowing, and navigational and design testing. The aim was to understand if a digital service was desirable, what might be required, and to attempt to frame what that service might look like.
In this post I'll explain how we approached the discovery.
Where to start
We went into the discovery research assuming we knew nothing about PA's and the work they do. We wanted to approach the task without any assumptions or misconceptions. The focus was on user needs. We tackled this problem quite simply, by talking to as many people as possible.  We got a lot out of this and learned a lot about their current working processes with OPG, which was both good and bad.
We travelled all over England and Wales and sat with our users in their working environments; we then watched and listened. In the end we conducted 21 one-one interviews, ran 3 focus groups, attended a number of industry working groups, and talked with external software suppliers.
A few things really stood out that we weren't aware of, most notably:
No two teams are the same
PA deputyship teams don't always sit within adult social care.  For example, they can be within finance, business systems or assurance and have little day to day interaction with the social care department.
Some PA teams have bespoke software solutions, some have 3rd party, others are using software that is no longer supported by the provider.
Any service that we build will not be suitable to all of our PA deputies.  A statistical review of the work that our Customer Relationship Management team have been doing has identified that PA's seek 3rd party software to assist them in the day to day management of a deputyship order once they reach around 250 clients.
Some of our PA deputies have been working with 3rd party software providers for many years and asking them to interrupt their current working flow, supported by this software to fill out an online report with 8 sections and 50+ questions, is just not feasible.  We will be working with those providers to develop an integrated solution in the future.
The teams that we can help are the smaller ones, who are often under staffed and struggling to put into place best practice ways of working.
Not just submitting a report
Surprisingly, a significant proportion of those that we spoke with weren't aware how many deputyship orders they currently reported on.  The trigger for them currently is a letter that OPG sends out to notify the deputy that a reporting period is ending and let them know when the report is due.
Their data is extremely diverse with huge numbers of spreadsheets, word documents and Microsoft money databases!
There is a real hunger for a digital service to interact with tasks across their workflow.  Some of the less complex tasks require a significant amount of time and break flow.  Their workflow is riddled with paper, chasing telephone calls, paying by cheque, notification of a change in circumstances, notification of fees being due, manual registry searches, applications for fee remissions, and sending documentation by post. Some of this work we can tackle on our own, others will require cooperation and co-development with other government agencies.
Outcomes
One of the main outcomes of this piece of research was a series of rich, contextual user personas that will help to guide us in the development of our services for PA deputies.
User personas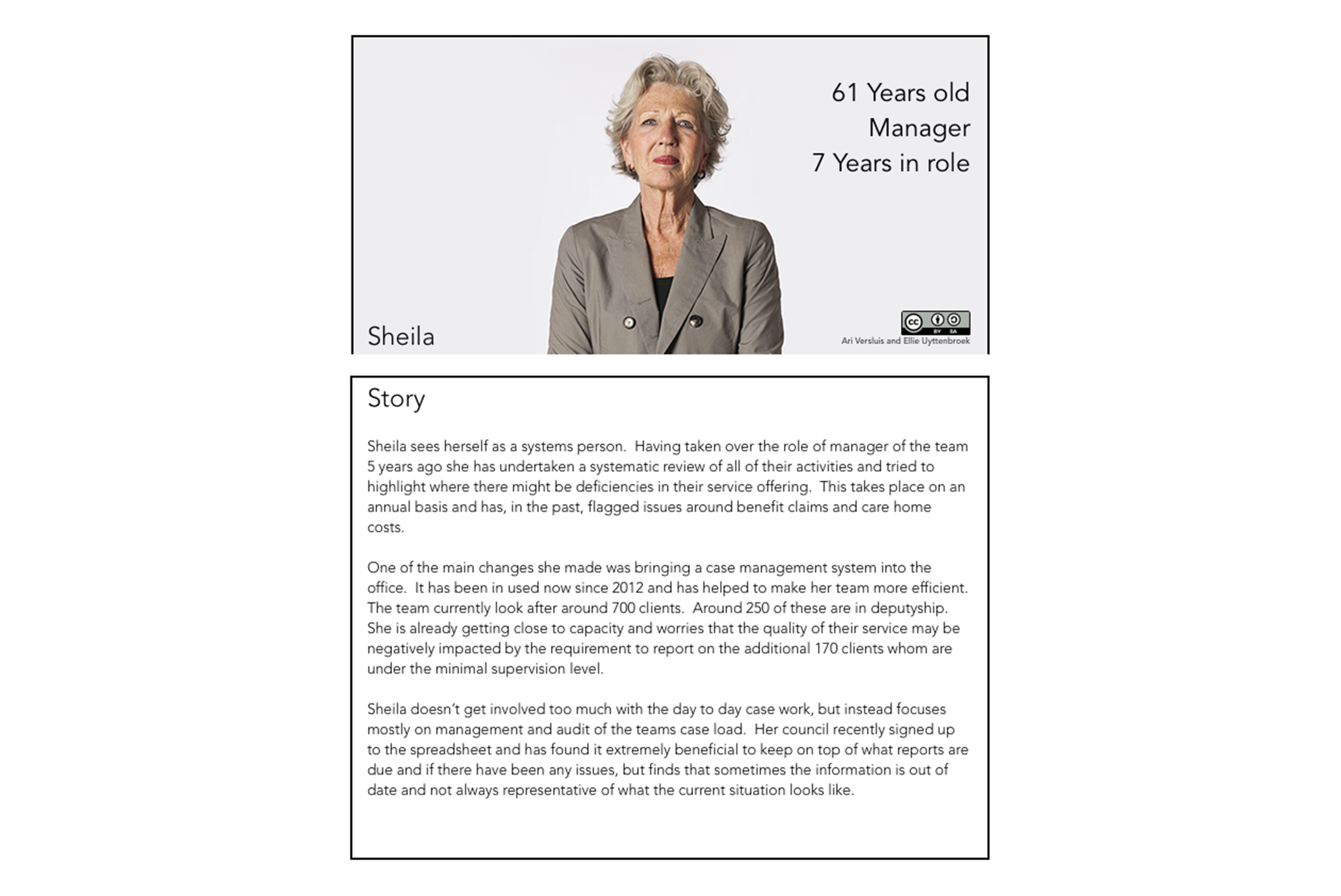 Sheila persona 1
Pain points and Aha moments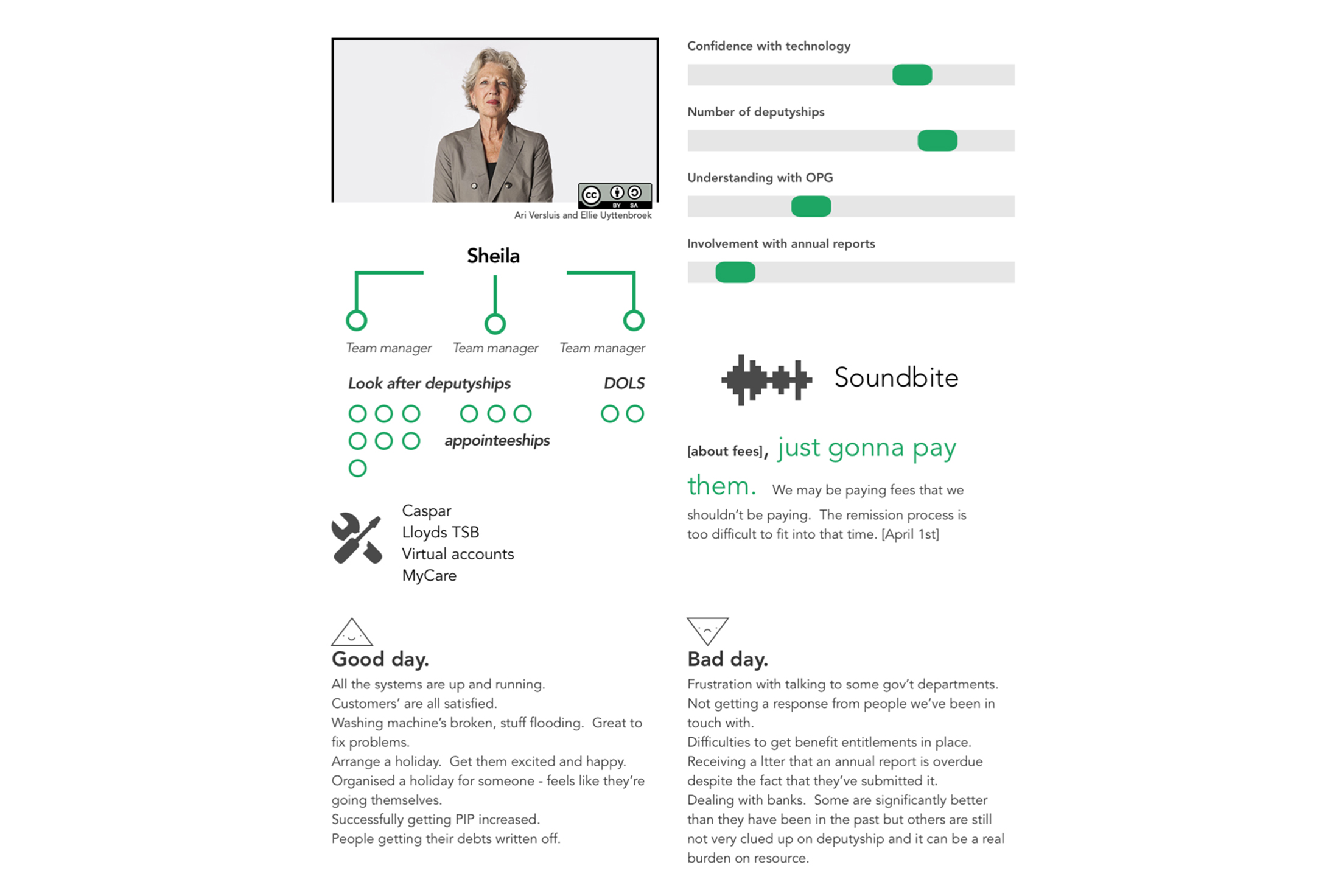 Sheila persona 2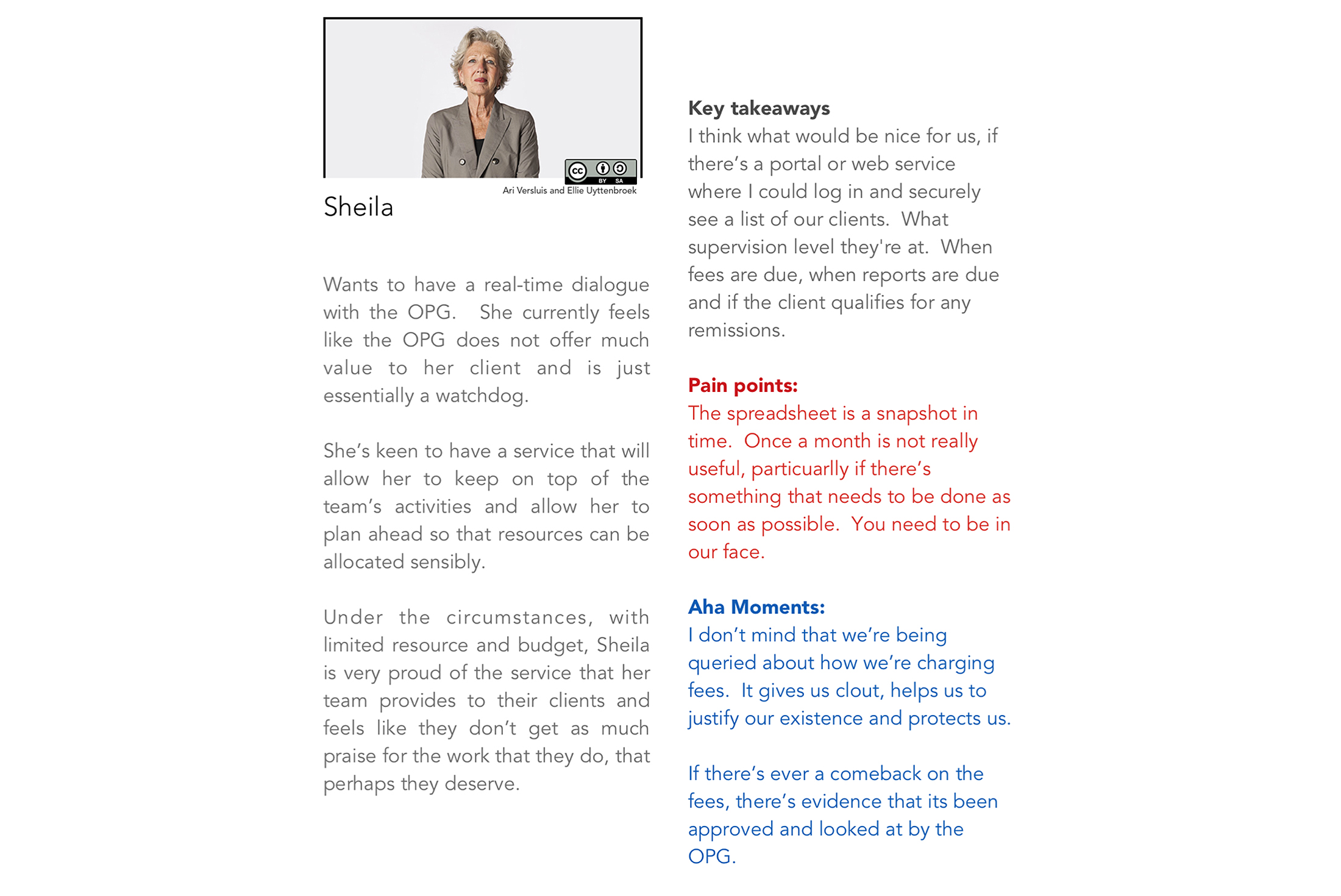 Sheila pain points
What next?
Our next steps will be to explore potential options which may better serve our users' needs.  We hope to develop prototypes and gain feedback from a range of users on whether our proposed approach does this and how we could improve this going forward.
We would love to get feedback from any PA deputyship teams that would like to help inform the future development of our services.  If you are interested, please do get in touch with us on elizabeth.feenan@publicguardian.gsi.gov.uk or david.thomas@digital.justice.gov.uk.