Over the last few months, we've been working hard to make our Use an LPA service available to lasting powers of attorney (LPAs) registered before 17 July 2020. From now on, LPAs registered on or after 1 September 2019 will be able to access the service and share their details online with organisations, to make the lives of donors and attorneys easier.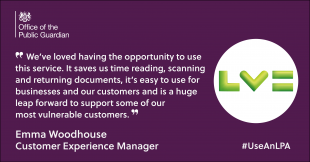 How to use the service (applicable only to LPAs registered on or after 1 September 2019)
The service can be used by the attorney or donor and you will need an activation key to get started. To get one, follow the steps below. You will need your LPA reference number, which you can find on any letters we have sent you
Go to

U

se a

n LPA

and

create

an account

(replacement attorneys cannot do this, only attorneys or donors)

 

Click on 'Add LPA'. You will be asked 'Do you have an activation key?

Click 'No'

 

Fill in the information you

'

re asked for. 

 

Click '

Continue'

 

Then check your answers and

click

'Continue'

 

Finally, you will see c

onfirmation

that

we're

going to send you an activation key
The activation key will be sent to the address you have given, and you should receive it within 10 working days. Once you have your activation key, go to Use an LPA and add the LPA to your account. You will then be able to give a secure access code to an organisation, who can then view the LPA details online at View an LPA. 
A few things to bear in mind 
If you have changed your address since

the LPA was registered

, please

call our contact centre

on

0300 456 0300

t

o update your address before you request your key.


 

 

 

Donors and attorneys who live overseas

can't

currently use the service

as we

're unable to

verify

the address

. 

 

 
Whilst

we

'

re

looking into making the service available for LPAs registered before September 201

9,

we need to do more work to analyse before making further decisions.

If there are instructions and preferences on the LPA, organisations may still request the original document as the service does not include these specific details. 

 

 
About the Use an LPA service
In July 2020, we launched the Use a lasting power of attorney service. Since the service went live, we have provided activation keys for over 1 million LPAs, attorneys on 85,000 LPAs have registered to use the service and 27,000 access codes have been provided to organisations. To date, over 17,900 LPAs have been viewed online by hundreds of different organisations.
The Use an LPA service is an additional means of sharing the details of an LPA with a third party. All previous routes, like sharing certified copies, are still available to customers. While we don't require third-party organisations or other government departments to officially 'sign up' to use the Use an LPA service, our Partnerships team are working with different sectors to raise awareness of this new service and encourage its use.
You can read more about the service on our Use an LPA blog post. We also have a Q&A on the service and a podcast if you need more information.