In recent months it's become much clearer just how important our online services are. With the world going online to communicate and collaborate we've been working behind the scenes to make the lives of donors and attorneys easier. 
We want to offer more support to people helping others make decisions. Making better use of digital products, services and smarter ways of working will help us to free up more resources. Allowing us to support our users and help them achieve better outcomes.
We're modernising our lasting power of attorney processes. Last year we announced our 'Track my LPA' service - this allows people making an LPA online to track the progress of their application. Now, we're pleased to launch our 'Use a lasting power of attorney' service.
Our new service lets donors and attorneys give organisations access to view an online summary of an LPA.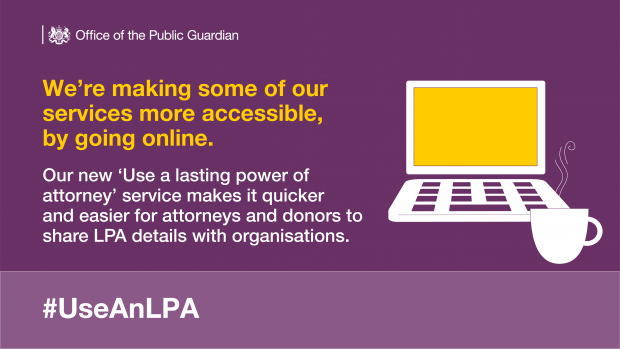 How it works
Once an LPA is registered, attorneys and donors will be sent an activation key.
They can create an account online at Use a lasting power of attorney and use the activation key to add LPAs to their account. A donor or attorney can then make an access code which they can give to organisations to view an online summary of an LPA.  
Although attorneys and donors can register for the service, the service makes it quicker and easier for attorneys to use an LPA to support the donor.
We've received lots of positive feedback and valuable insight from donors, attorneys and organisations who have trialled the service.
We've been working closely with a range of organisations, including HSBC UK and the Department for Work and Pensions (DWP), to develop the service.
Maxine Pritchard, head of financial inclusion & vulnerability at HSBC UK Retail said: "We've been privileged to have worked with The Office of the Public Guardian on the design and development of the new service to create a much-improved journey for our customers. 
"At a time when it's even more difficult for our customers, or their support network to get into a branch it was crucial that we found solutions. We're able to authenticate the LPA so we know it's a genuine document and of course the customer experience is greatly improved." 
Sharon Goody from DWP said: "The Use a lasting power of attorney service has allowed us to design a simple and quick process for our DWP customers and their attorneys, to replace the lengthy and often problematic process of requesting power of attorney documents by post for verification purposes. 
"The timescale to receive posted documentation is usually around two weeks which is reduced to days using the online service, resulting in the lasting power of attorney supporting the customer at the earliest time possible. It's a fantastic service for an attorney, for a customer and for DWP." 
Gradual roll out
With over 4 million registered LPAs, we will be gradually rolling this service out to our users.  
Donors and attorneys with LPAs registered from 17 July 2020 will be able to use the online service. We plan to open up the service to LPAs registered earlier in 2020 and some from 2019, but we do not have a date for this yet. 
We do not have plans yet for opening up the service to LPAs registered before this time, however, we are actively looking at how we might do this. 
If you're interested in making a lasting power of attorney, you can get more information here.
The comments on this blog have now closed. For further information please see our latest post - https://publicguardian.blog.gov.uk/2020/09/09/use-a-lasting-power-of-attorney-your-questions-answered/