With a growing population, and an increasing rate of dementia and brain injuries, the need for our services is constantly on the rise. While we continue to make sure we deliver the best service for our users today, we need to be ready for the future, making sure we continue to keep safeguarding at the heart of everything we do.
Our plan for the year ahead 
Our business plan for 2019 to 2020 outlines what we plan to deliver this year and why. It states our intentions and emphasises our role in safeguarding. It highlights the importance of working closely with other agencies who also have a role to play in safeguarding adults in risk. But most importantly, it is fully aligned with our values – purpose, humanity, openness and together.
We remain committed to continue to provide excellent service and we want to further strengthen and support decision-making. Our transformation programme, also known as OPG 2025, puts our staff, our users and our stakeholders, at the heart of everything we do and will help us towards this exciting future.
This year, we are focusing on our users – what motivates them to use our services, how we can make it easier to work with us, and better help them find the information they need to do their work.
We'll continue to raise awareness about our lasting power of attorney (LPA) services. We'll look to understand the needs of our users and the factors preventing people from taking out LPAs. We'll develop a proposal for a secure digital LPA and launch an online service making it easier for people to use an LPA.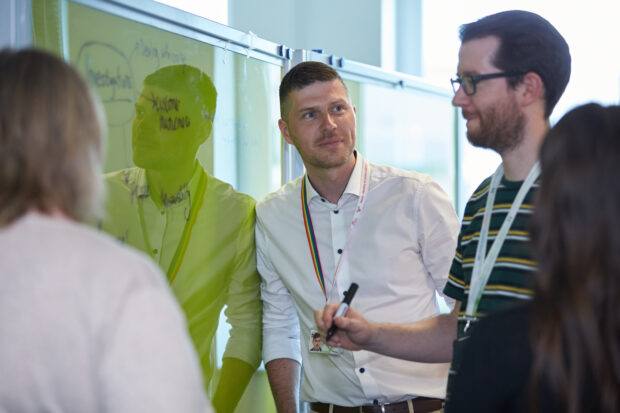 Creating an organisation fit for the future
Moving of our services online will mean we can do more to provide greater support to people doing an incredibly important job in often very difficult circumstances. Our research will give us the opportunity to consider what is needed and what is possible. We will explore how we could potentially take such plans forward in the right way that is inclusive and accessible.  We will also work with our users and our stakeholders to make sure we do this safely, securely and for the ultimate benefit of the people we are trying to protect.
Our staff are fundamental to delivering services fit for the future. We remain committed to creating a truly inclusive environment and building a workforce that reflects our rich and diverse society. We want to provide our staff with the right tools to do their jobs in a flexible manner.
This year, we will introduce schemes that promote inclusion. Raising effective and confident leaders who will inspire and empower our staff as well as actively supporting and encouraging development are all part of our plans.  We will also confirm arrangements for an office move within Birmingham.
Supporting adults at risk together
I ask you – our users, partners and stakeholders – to consider our plans and what they might mean for you. We're always keen to hear your ideas, questions and suggestions, so please don't hesitate to contact us by emailing customerrelations@publicguardian.gov.uk