At the Office of the Public Guardian (OPG), we want everyone to have the opportunity to plan for their future on their own terms, with the people they trust the most. We want everyone to be aware of how they can do this with a lasting power of attorney (LPA).
That's why we're launching the pilot phase of our campaign – your voice, your decision - to raise awareness of LPAs and counter some of the common misconceptions around them.
Gathering insight and building our campaign plan
Making use of data
To inform our campaign, we conducted research into how many people across England and Wales currently have an LPA and compared this to areas of deprivation and dementia prevalence. This showed us that there are people in our society who could benefit from having an LPA but don't have one or know about them.
Our research also told us that those who know the least about LPAs tend to be from a lower socio-economic background and are more likely to be impacted by health issues or age-related illnesses such as dementia.
We also found out from a sample of 25,000 people that the top 3 concerns for people on low incomes are:
Money or debt
Physical health
Caring for others
Identifying misconceptions
We learned that nearly 75 percent of people think that their partners or close family members can automatically make decisions for them if they're not able to. As next of kin, many people expect that making medical decisions or future planning for loved ones is straightforward.
This is not true; only an LPA gives you the legal ability to give those you trust the power to make decisions on your behalf if you lose mental capacity.
Taking this information we gathered we developed a campaign plan to tackle these common misconceptions.
Our campaign – your voice, your decision – aims to provide access and information about LPAs to everyone, and encourage everyone to take them out to provide peace of mind for the future.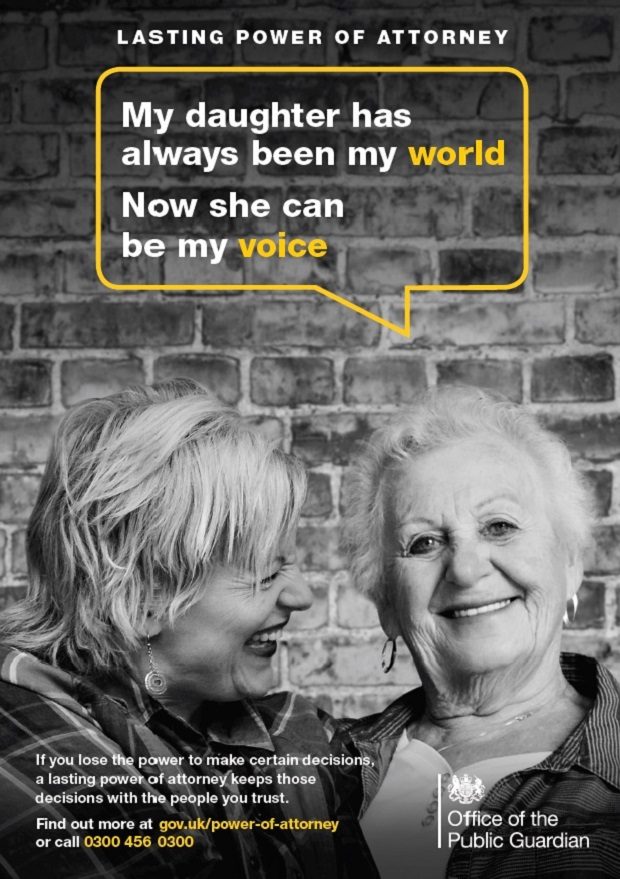 One step at a time
To test the effectiveness of our campaign, we've deliberately started small. We've chosen to kick off our pilot in the London Borough of Islington. We chose this area because it's an area with a low take up of LPAs and while it has an affluent community, the borough also has many people living in poverty.
We've worked closely with local organisations to develop our campaign plans including Islington Borough Council, Islington Clinical Commissioning Group, Age UK, Camden and Islington Mental Health Trust, and Islington Mind. It's been a brilliant example of cross-agency working in the safeguarding community.
Leaflets and posters are available in Islington GP surgeries and hospitals as well as Age UK community centres.
We've also developed a campaign website to act as a single point of contact for our online channels.
What's next?
We'll be running our pilot over the next few months. We'll then evaluate our objectives to learn what's worked well and what we can improve. In collaboration with our partners, we'll use this information to inform our work in other areas of England and Wales.
If you'd like to find out more about LPAs visit our campaign site.