Shahzad Aziz, operational unit manager at the Office of the Public Guardian (OPG), shares some top tips to help you complete your lasting power of attorney form (LPA) application correctly.
At OPG we receive on average 67,000 lasting powers of attorney (LPA) applications each month, which is about 3,100 every single day! 
While most LPA applications we receive are completed correctly, we find that around 15% of the applications we receive have mistakes in them. When we find mistakes, it means we can't register the LPA application or the registration process may take longer to do. Mistakes often mean we need to send things back to be amended. This can cause delays and sometimes we need to charge additional fees to have things corrected.
We've shared the top 8 errors we see when people send us their applications and what you can do to prevent unecessary delays or costs.

The top 8
errors we see with LPA applications

1. Missing and m
ixing pages
When people make more than one LPA application – for example, if they take out a health and welfare LPA and property and finance LPA together or make an application alongside a partner – sometimes they unintentionally mix up the pages on the different forms. It's important to take the time to review your applications to check the numbering and make sure you have the correct pages of the forms before you send them to us.
If you're submitting more than one LPA application and you choose to send us a cover letter, please provide a cover letter for each application. This can help us speed up the registration process.
2. Signing the application
in the wrong order
Many LPA applications we receive are signed in wrong order. If you've used continuation sheets (part of section 1 - 9) these need to be signed and dated at the same time. Do not future date (dating the signature incorrectly so the signatures appear in the correct order); the donor needs to capture their wishes first and appoint attorneys, then the certificate provider needs to certify that the donor can make the decision to create the LPA, and the attorney must agree to act. The applicant, either donor or attorney, signs section 15 at the end.
3. F
amily members as c
ertificate providers
Make sure those signing as certificate providers have distinctly separate relationships from donors, attorneys and replacement attorneys. For example, a certificate provider cannot be the son or daughter of anyone involved, even if the name is different. We can conduct checks to determine a possible relative.
It's also important that full names are used. If we require a new section 10, it needs to be the same person as before.
4. Using i
nitials instead of full names
and not signing in the appropriate boxes
We've received many applications where people have signed the sticky labels or notes that solicitors have used for guidance, rather than in the signature box itself. Solicitors and other professionals should make sure that their clients sign on the documents themselves and within the appropriate boxes. Their signature(s) must be witnessed. The witness(es) must write their full name and address as well as signing.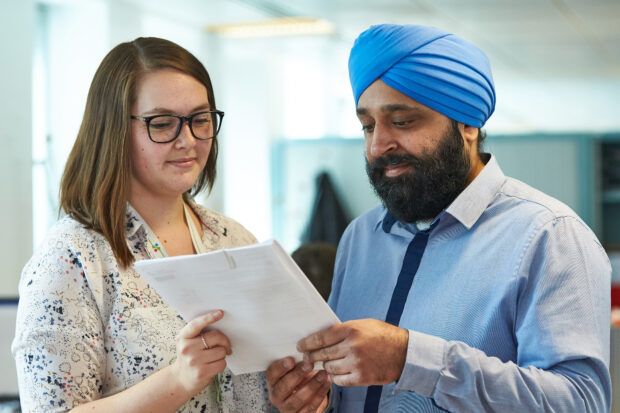 5. Pencil,
Tippex and photocopies
If you use pencil or Tippex, we can't tell how (or whether) an LPA application has been amended or who did it. LPA applications with pencil or Tippex amends will not be registered. Please use ink and witness any amendments in the traditional way. We cannot accept photocopies unless they are certified.
6. Bound applications
Once we receive an LPA application we scan the pages individually for our records. If an application is bound, we need to remove the binding. If we can't remove the binding, we're unable to provide clear, readable copies for our scanning system. Binding can be done once the application is returned. Don't use industrial staples as they can damage the document when we remove them to scan the pages
7. Being
unclear
in the
life sustaining treatment
section
This isn't just a tick box on the health and welfare form. You need to specify what decisions your attorney can make, if this isn't clear or has contradictory instructions we cannot process the application. Please make sure the correct box is ticked, that it's signed on or before section 9 and that it is filled in correctly
8. Contradictions in
i
nstructions and
appointment types 
We do receive LPA applications which contain some unlawful instructions, there are many legal cases on what is an unlawful instruction and you are advised to seek legal advice on any instructions you want to include in your LPA to ensure it is lawful and refer to our guidance for assistance. When we see what we believe to be an unlawful instruction, we have a statutory duty to seek guidance from the Court of Protection. This won't always invalidate your LPA, but it will slow down the process of registering it. 
Another common error we see is in appointment types – for example, appointing joint and several attorneys, then instructing them all to make decisions. You need to appoint joint for some, joint and several for other decisions

Get in touch
with OPG
if you
need help
We can help answer any questions you might have on filling in your LPA application, especially if you want to include something unusual. 
There's lots more information available on GOV.UK to help you make and register LPAs and learn more about making decisions on behalf of others.
 You can also contact us by emailing customerservices@publicguardian.gov.uk or telephoning 0300 456 0300. We're happy to help.