This week (23 – 29 September 2019) is National Inclusion Week (NIW). It is an annual campaign to raise awareness of the importance of inclusion in the workplace and the business benefits of having an inclusive workforce.  
OPG is a very diverse organisation and, as part of the Civil Service, we're working towards becoming the UK's most inclusive employer by 2020. This is not just about fairness. Our aim is to be a workplace where people truly feel that they belong, where they can be their best selves and where they have a voice in how things are done. It's vital that we are representative of modern Britain and the people we support through the services we deliver.  
To celebrate NIW we've created a video where colleagues from across the organisation talk about how they feel included at OPG. This video is part of a long-term campaign at OPG to celebrate our diversity and help staff think about how they can support others and be inclusive at work and live our values. 
Inclusion benefits our staff and our customers
The Civil Service diversity and inclusion strategy shows that diverse and inclusive organisations perform better, and their employees are more engaged and far more productive. People feel more valued, supported and committed to their employer when their colleagues, particularly their leaders ask about and listen to their experiences. 
I'm proud that our staff networks are among the most active in government. For example, our department, the Ministry of Justice, is twelfth in the Stonewall Workplace Equality Index. We offer a mentoring programme to bring people from socially diverse backgrounds into our department, and we offer leadership development programmes for ethnic minority staff. We were presented with a gold award earlier this year, by the charity Mind, for the initiatives we have in place to support the mental wellbeing of staff. We offer a workplace Disability Passport to make life easier for those with adjustment needs. Managers undertake unconscious bias training, recognising that we all need to consider our behaviours to create an inclusive workplace. 
Our customers are our priority, everything we do is centred around offering them the best service we can. Our staff strive to provide an empathetic service and because we have a diverse workforce, we can relate to the backgrounds of our customers and understand what's important to them.  
We ensure this happens by finding the right people to work at OPG to represent those in the community who need our support, or professionals who are in turn assisting their own clients. We are always listening to what our customers say and actively seek feedback so we can find ways to improve our services.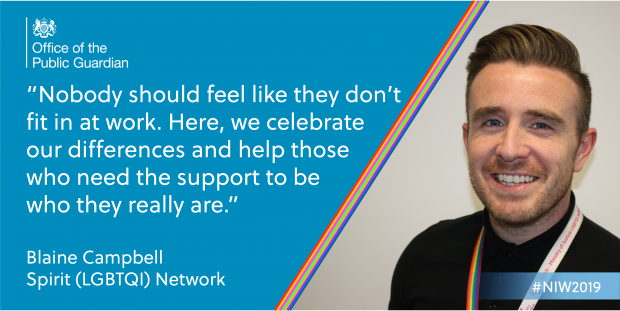 Our staff are proud to work for OPG
It's important to us to show what inclusivity means in practice and being genuinely inclusive means really taking the time to understand and embrace the views of others. That's why we're taking part in National Inclusion Week and ensuring this message is heard. 
For us, it's about working to create an environment where everyone has equal access to opportunities and resources and can contribute to our success together.
You can learn more about National Inclusion Week by visiting the National Inclusion Week website.